Custom-made consumer units
From early on, our consumer units have paved the way for innovation with the electrician in focus. Working with GARO's distribution cabinets should be both easy and safe. This is why we have used slightly heavier sheet metal, slightly safer cable routing solutions and slightly smarter connectors. We were, in fact, the first to do all this. Naturally, we also offer plastic distribution cabinets for those who wish, although we recommend a metal distribution cabinet from a safety standpoint.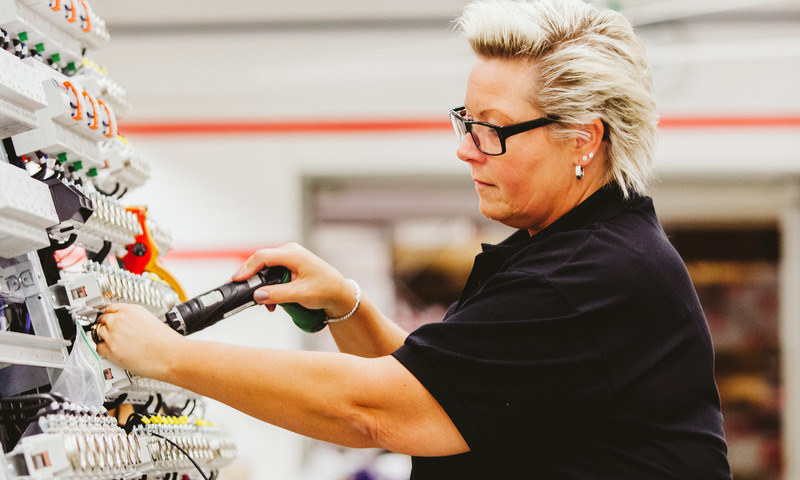 We assemble and ship immediately.
Tailor and order your consumer unit online. Orders placed before 11 am on weekdays are shipped from us the same afternoon with next-day delivery*. We also stock the most popular service/distribution units pre-assembled and ready for immediate delivery.
* Next-day delivery encompasses locations south of Dalälven. Delivery to locations north of Dalälven is 48 hours. We cannot be held liable for delivery delays due to public holidays and problems experienced by freight companies.
Download our app
Use our app for easy ordering. Download from the App Store or Google Play to your phone or tablet.
Do as follows
1. Make your selections by tapping in the dropdown menu that opens when you tap the small arrows on the line. Here you select the type of enclosure, size, main switch, residual current device, lighting control, etc. 2. All of your selections are illustrated as they are made. (For project solutions using units larger than those available in the app, please contact us for personal service.) 3. Enter your contact details and the wholesaler/location you want to use. Choose between pick-up at wholesaler and delivery to construction site. The price presented is the electrician's price, excl. any bonus agreement between the electrical wholesaler and the electrician.